| | |
| --- | --- |
| Corporate name | OTOKOYAMA CO., LTD. |
| Main business | Sake making industry |
| founded | 1887 |
| Established | 1952 |
| Common stock | 39,000,000 yen |
| Representative | Yokichi Yamazaki |
| Corporate headquarters | 7-1-33, Nagayama 2-jo, Asahikawa-shi, Hokkaido, 079-8412, Japan |
| Telephone number | 0166-48-1931 |
| Faximile number | 0166-48-1910 |
| Email | Mail form |
Otokoyama sake brewery museum
Opening time
9 o'clock - 17 o'clock The opening of the sake brewery (2nd Sunday in February) is from 10 o'clock to 15 o'clock
Closed day
New Year's Holiday (12/31, 1/1 to 3)
Entrance fee
Free
Inquiry
0166-47-7080 (Sake brewery museum) Mail from here
location
7-1-33, Nagayama 2-jo, Asahikawa-shi, Hokkaido, 079-8412, Japan google map
traffic

○ If you come by car 30 minutes from Asahikawa Airport / 15 minutes from Asahiyama.
Zoo 5 minutes from ramen village / 15 minutes from Takasu IC

○ For those who use public transportation 2-minute walk from the north bus
"Nagayama 2 6 6 chome bus stop

Parking Lot
8 buses, 50 private cars
※In case of a group please contact us in advance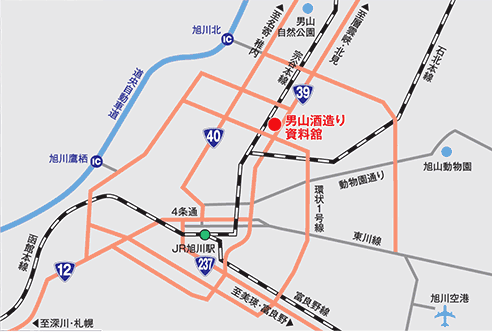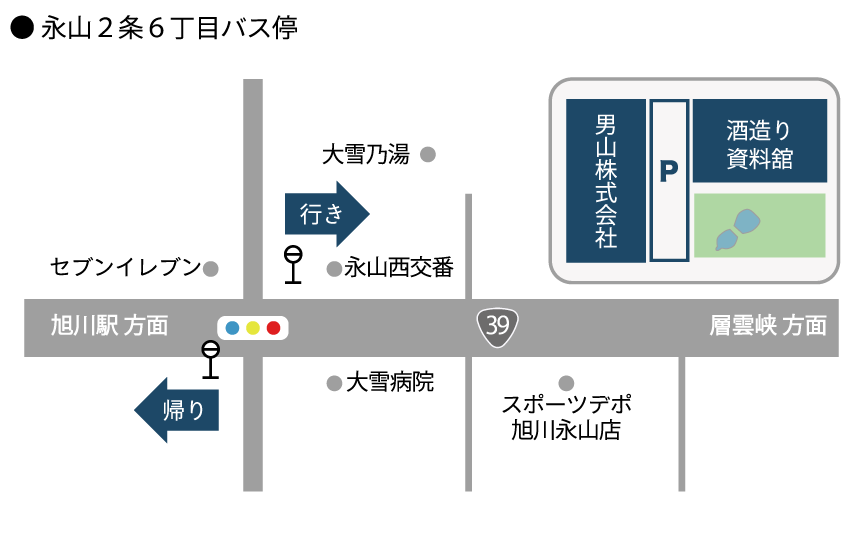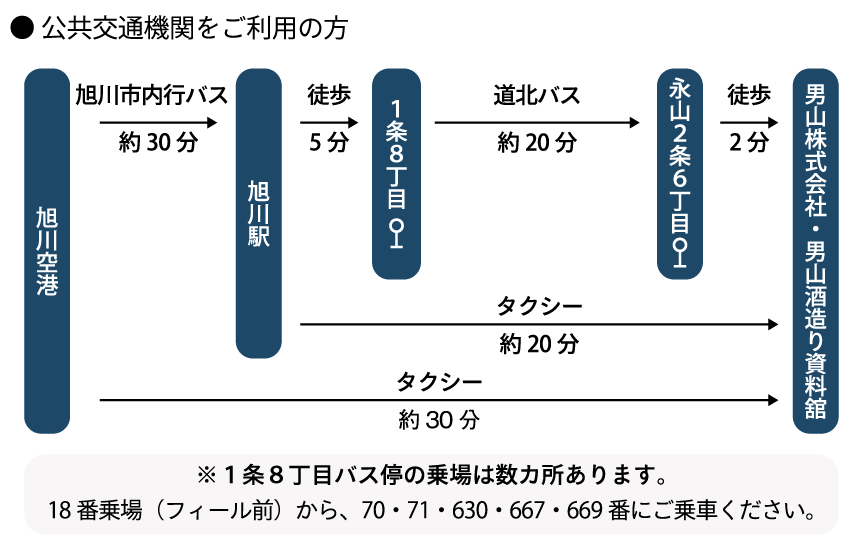 Here is the bus hall of Asahikawa Airport. Asahikawa Airport HP
Here is the bus hall of Asahikawa station. North Bus Express HP
Okotoyama Nature Park
Opening period
From mid April to early May.
Open during the opening period The opening period will be posted on the announcement. blogs
Opening time
9:00-17:00
entrance fee
free
Inquiry
0166-57-2131 (Otokoyama Natural Park / during the opening period only). Mail from here
location
Higashiyama Asahikawa-shi, Hokkaido 071-8171 , Japan google map
traffic

○ If you come by car
15 minutes from Matsuyama sake brewery museum
From Asahikawa Kita I.C., Route 40 towards Nagareyama / Wakkanai
The entrance of the park is 100 M just before the Asahikawa side of the Pippu Tunnel at the boundary between Asahikawa City and Pippu-cho.

○ For those who use public transportation
Get off at the north bus "Otoko Park

Parking Lot
Equipped with 200 cars
※ When you come by a large bus, please contact us in advance.